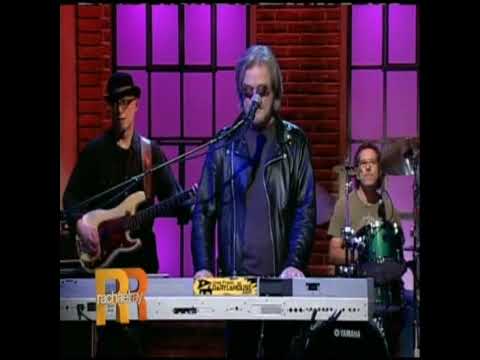 Daryl Hall earned his chops as a background singer for some of the best soul groups in history, so when he stepped out of the shadows and climbed straight to the top of the charts, it was no surprise that his smooth tenor voice came to epitomize the best of blue eyed soul. For thirty years now Daryl has taken us along on his musical odyssey, thrilling us with the range and emotion of his beautifully unique voice and showing us again who puts the Hall in Hall & Oates and the soul in solo.
Daryl Hall's professional life began while he was still a student at Temple University. By the mid 1960's he had already recorded a single with Kenny Gamble and the Romeos; a group that included Thom Bell and Leon Huff, two of the founding fathers of Philly Soul. Throughout his early years, Hall was a frequent presence in sessions with the two musical pioneers. By 1967, Hall had hooked up with fellow Temple University student John Oates who was already fronting his own soul band. Their unorthodox introduction took place at a "Philly record hop" which ended prematurely with a dance floor brawl that sent the young musicians running for the exit. Away from distractions, the two discovered they shared common musical passion, as well as an undeniable personal chemistry, so it was only natural that they began to perform as a duo with a number of local doo wop and R&B groups. Unfortunately the professional partnership came to an abrupt end just one year later when Oates transferred schools. Undeterred, Hall formed a soft rock group titled Gulliver, which promptly broke up after recording only one album with Elektra records. Free of Gulliver, Hall returned to session work lending his voice as a backup singer for such soul heavyweights as the Stylistics and Delphonics.
In 1969 fate intervened when John Oates returned to Philadelphia. Once again, Hall hooked up with his former partner to write and perform songs. Their first efforts together were heavily folk influenced, and in no way resembled the sound that would catapult them into the pop stratosphere. Nevertheless, the twosome caught the attention of Tommy Mottola, then a hungry young record exec who wasted no time becoming the duo's manager and signing them with Atlantic records. The pair's first three albums — Whole Oates (1972), Abandoned Luncheonette (1973), War Babies (1974) – found Hall and Oats struggling to establish a sound that was uniquely their own while slowly abandoning their folk influences. In 1974 Hall and Oates left Philadelphia for New York and that spring scored their first chart hit "She's Gone" a cover of the Travares hit by the same name.
At the dawn of the 1980's, Hall and Oates had finally hit their stride with their self-produced effort Voices once and for all establishing their signature sound—the hybrid of mainstream pop and R&B influences they would christen rock n' soul. A string of dazzling hits followed: the shiningly upbeat "Kiss on My List," the finger popping
"Private Eyes," the crossover sensation "I Can't Go for That (No Can Do) and their heavily rotated megahit "Maneater." In a 1985 Interview with Rolling Stone, Hall remembers Voices as the turning point in his career with Oates. "It was great. We were vindicated. We were accepted on our own terms. To all those people who said, ''Those guys are on the way out,' we said, 'You guys is wrong.'"
In April of 1984, the Recording Industry Association of America announced that Hall & Oates had surpassed the Everly Brothers as the most successful duo in rock history, earning a total of 19 gold and platinum awards.
If the 1980's marked the beginning of Hall & Oates' greatest commercial and artistic success then the close of the decade saw the waning of their dominance despite the gold and platinum albums under their belts. Following their success Live at the Apollo with David Ruffin & Eddie Kendrick, which also garned gold, Hall & Oates went on hiatus. Hall took this opportunity to launch a solo career and released his 1986 Three Hearts in the Happy Ending Machine. The album received only lukewarm response, a harbinger of things to come. In 1988 Hall joined Oates once again to release Ooh Yeah!, their first record for Arista Records. The first single, "Everything Your Heart Desires" climbed to number three on the charts giving the album just enough push to go platinum.
Unfortunately, the album's other singles failed to make it to the Top 20, bringing the twosome's decade -long chart dominance to an end. Undeterred, Hall and Oates released Change of Season, in 1990. Although the album went gold it had only one Top 40 single "So Close." Change of Season also marked the end of Hall and Oates recording career for the time being, though they continued to tour throughout the 1990's. In 1997 they released the long-awaited Marigold Sky on Push records. According to Rolling Stone Magazine this "album's heights are as high as anything they've ever recorded."
At the end of the 1990's Daryl Hall released several laudable solo efforts including 1998 Sacred Songs (1998), Soul Alone (1999) and Can't stop Dreaming (2000). In 2003 Daryl Hall continues to record and tour with his partner John Oates. Early in 2003 the pair released Do It for Love and Hall continues to record solo. His latest release is Can't Stop Dreaming.