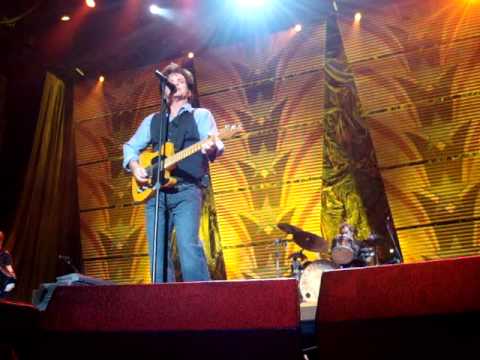 John Mellencamp has recorded some of the most powerful American anthems of the last two decades. The singer-songwriter-producer is also an actor, critically-acclaimed painter, and is preparing an upcoming musical stage production written in collaboration with his friend Stephen King. During his 17-album, 25-year career, he has also continued to bring a certain rock 'n' roll ethos–what's literally become known as "Heartland Rock"–to the rest of the world.
Cuttin' Heads, Mellencamp's new Columbia Records release, continues this fine legacy with the artist's critical examination of the America he loves and writes about (a tradition that dates back to at least "Pink Houses" and the classic Scarecrow album) still wrapped up in wonderful archetypal rock 'n' roll melodies and riffs–one eye on the present, and one eye always on a glorious past.
"I listened to very few records while I was making this album," says this longtime classic rock historian and aficionado. "I listened to Hank Williams, Robert Johnson, Woody Guthrie, the Kinks, and the Rolling Stones. And I listened to Dylan."
Those influences, which Mellencamp has perfected throughout his career, are certainly all reflected musically on the new album–"Crazy Island," in fact, is a tremendous compendium of classic American instrumentation (from Appalachian fiddle and accordion to hard electric guitar). But Cuttin' Heads delivers it all with a decidedly contemporary edge, a fact that's immediately noticeable on the funk-driven opening title track, featuring a wonderful rap by Chuck D, one of three special guests on Cuttin' Heads. The Public Enemy leader's words jump from James Brown to Led Zeppelin's appropriation of the blues in the first two lines alone, highlighting a song that addresses a recurring theme in Mellencamp's art and one appropriate for a guy who started out singing in a James Brown cover band in Indiana: namely, the problem of racism in America.
"The way that song came about was through a conversation I had with [longtime backing vocalist] Pat Peterson. When we were in Florida recording the first version of this album (those versions were eventually scrapped and mostly re-recorded at his Bloomington hometown studio, the Belmont Mall), we were listening to a rap hip-hop band that was having a lot of success at the time. "
"And Pat turned up her nose at it. I was just listening to the rhythm, and I asked her, 'What is so offensive about this?' She pointed out the lyrical content, and then she went into a long conversation about how this is hurting their race and all the people who've died and suffered. And now these kids are selling it out, whether they think it's a term of endearment or not. And then white kids in the suburbs listen and think it's OK. A perfect example, she pointed out, was the most recent Woodstock, when the guy came out asking, 'How's my niggas?' Well, there wasn't hardly a black person at that place! And even if there was…."
As for Chuck D's involvement? "We were looking around for someone who hadn't sold-out. He was the only guy who hadn't done that, refused to do it, and thought that it was wrong. So after talking on the phone, [things just clicked]. Chuck has a vision, and he stays connected to it. He won't do–I hate to say this–a 'Stepin Fetchit' (a character created, first for vaudeville, later for films in the late 1920s-1930s, by African American comedic actor Lincoln Perry) routine for the money."
Yet, Cuttin' Heads isn't as overtly political as the opening track. Nashville legend Trisha Yearwood (who performs Mellencamp's classic "Small Town" in her live shows) adds her vocals to the beautiful "Deep Blue Heart," one of several new love songs on the album, adding, explains Mellencamp, the same feel that Emmylou Harris brought to Dylan's legendary Desire album. "Women Seem" is a comical look at the eternal war between the sexes; "Worn Out Nervous Condition" was one of the songs inspired by the artist's recent heavy infatuation with Ray Davies and the early Kinks; "Shy" is about, um, premature ejaculation and was written "…following a conversation me and a few macho guys had after watching 'Oprah Winfrey' on the subject." Mellencamp laughs. "I can write about anything? which is why I never get writer's block and everything I write isn't necessarily autobiographical."
Mellencamp says he recorded Cuttin' Heads several times before it finally met his exacting approval, and even though he once again took on the producer role, he ultimately called in old friend Don Gehman to help mix the final version, marking the first time the dynamic duo have worked together since 1987′s The Lonesome Jubilee.
"For the first time in 15 years, I could actually walk out of the studio and take a break and not worry what was going on," Mellencamp chuckles. He also credits longtime guitarist Andy York as one of the major forces behind Cuttin' Heads. "The two of us really made this record," John explains. "Andy played instruments he didn't even know he could play–steel pedal, bass on half the tracks. It was out of necessity–because it was either me or him. Once we were done with drums and basic tracks"–which included Mellencamp's phenomenal touring band as well as session superstars like drummer Steve Jordan and bassist Willie Weeks–"it was me on acoustic guitar and Andy would follow along. That's how we came up with the arrangements."
Although the new album's 10 tracks were written and recorded over the last two years, Cuttin' Heads arrives at a pivotal moment in American (and world) history–and certainly "Peaceful World," the album's beautiful first single, takes on a more poignant and timely tone in light of the events of September 11, 2001. In fact, Mellencamp discovered that Boston radio stations were playing the song as a "theme of healing," which is why the artist decided to bus back to the U.S. from Canada for a scheduled show in Boston two days after the tragedy. There is a comforting feel to the song's gorgeous melody, peace-loving theme (which, again, addresses the scourge of racism–an even more pressing topic following a recent rash of "hate" crimes in the U.S.), and the soothing duet vocals of the album's third guest artist, the Motown vocalist India.Arie.
"I wanted a young soulful person on it," he says. "I didn't care at first if it was male or female, to tell you the truth. But you start looking at some of these younger women, and there's too much booty call going on. When I heard her and saw her perform, though, she seemed perfect. If handled properly, I think she could be a huge voice in young popular culture right now. There are so many variables, of course, but I knew that her soul sounded right." "Peaceful World" or a Mellencamp line like "How can things go so wrong in such a beautiful world?" on "Just Like You" take on new meaning in light of the tragedy–but Mellencamp says it was another song that spoke to him following the bombings.
"The song that actually made the most sense to me after that was 'Crazy Island.'" He quotes the lyric: "'You hold no responsibility in the land of easy millions.' These songs were written a long time [before the tragedy], so I'm not doing anything here I haven't done a thousand times before, which is to ask people to look at themselves. I care deeply for America, but I'm not a spokesman for America. 'Pink Houses' was the exact same thing? questioning the values we have, although people have misinterpreted it throughout the years. And that's OK, too, if it works on that level. But I've always just been saying, 'Let's take a look at ourselves and examine things a little bit.'
"I've always preferred to take a questioning view of a situation , but then wrap it up the way America likes thing wrapped up with a nice little bow," says Mellencamp. "Frank Zappa said 'Everything is displayed nicely in America.' I read that when I was, like, 17, and it always stuck with me. But, of course, when you open it up, what's inside is not always so great." Of course, Mellencamp's patriotic spirit has been evident in his humanitarian efforts–his drives to aid the America farmer via co-organizing Farm Aid, his work with handicapped and autistic children, the way his music soothed troubled souls over the years (witness his free "Good Samaritan Tour" of the summer of 2000 during which Mellencamp delivered free acoustic performances in major downtown public spaces, attracting audiences of more than 20,000 when the shows were announced an hour before they started). Cuttin' Heads is yet another strong chapter in this brilliant legacy.
"You know, rock music can change a person," he says. "It can change an outlook. That's how music works. But the bigger notion that music can change countries and change the world, I don't believe that. That's too tall an order. It can change a moment in a person's life–and that seems important enough."