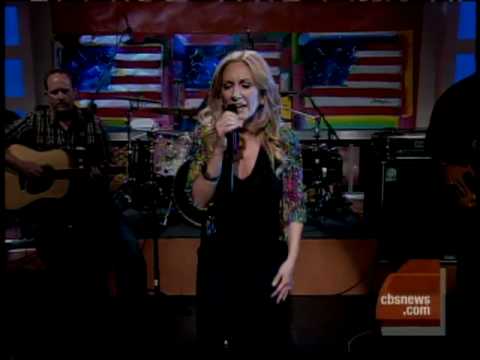 With songs as intimate and plain-spoken as diary entries, Lee Ann Womack reminds us of the things that made country music so enchanting in the first place. Her peculiar magic is being thoroughly traditional without sounding the least bit dated. In her self-titled debut album, the Texas native weds the primal emotional power of a Connie Smith or Reba McEntire, to the sensibilities and dilemmas of modern women. But as the collection amply demonstrates, she's not all tears and torment. She can be lyrically light-hearted as well.
No Olympian ever trained harder for the gold than Womack has. From her earliest years in the small town of Jacksonville, Texas, she immersed herself in country music. Her father was a part-time disc jockey who frequently took her to the studio and let her pick out records for him to play. (Bob Wills, Ray Price and Glen Campbell were her favorites.) At home, young Lee Ann would lie between the stereo speakers and when the weather conditions were right-absorb the music beaming in from the Grand Ole Opry. Instead of taking her senior trip with the rest of her class, she bargained with her parents for a visit to Nashville, where she toured Music Row.
Initially, Womack studied music at South Plains Junior College, in Levelland, Texas, one of the first schools to offer a degree in bluegrass and country music. She quickly became a member of the school band, Country Caravan, and toured with it throughout the Southwest and Southern California. Subsequently, she enrolled in Belmont University's Music Business program in Nashville, which enabled her to intern in the A&R department at MCA Records. In 1990, she moved to Nashville permanently.
During her stay at Belmont, Womack got married, became a mother and stayed home for a couple of years. Then she began doing showcases around town and singing demos for other songwriters. She also began to concentrate more on her own songwriting. "At one showcase," she says, "somebody from Tree [Publishing] came out to hear me. He asked for a tape of my songs that I'd demoed. Then, he gave the demo to [producer and songwriter Don Cook, who actually signed me to Tree."
As a staff writer for Tree since 1995, Womack has co-written with such heavyweights as Bill Anderson, Sam Hogin, Ed Hill and her producer, Mark Wright. Anderson has recorded one of their joint-compositions for his new Warner Brothers album, and Ricky Skaggs is including a Womack cut on his upcoming Atlantic Records project. Best of all, one of Womack's songs earned a spot on her own debut album.
In early 1996, Womack signed as an artist with Decca Records, the legendary label of Ernest Tubb, Patsy Cline, Webb Pierce, Loretta Lynn and many other of her musical heroes.
With the signing came her first big career problem: What to do about her name? At just about the time Womack joined Decca, LeAnn Rimes was making her media breakthrough. Naturally, there was the question of whether two country singers with identical sounding first names might needlessly confuse fans. Womack was philosophical about the whole matter. "I was not opposed to changing my name," she says. "I suggested we go with Lu, since that had always been my nickname. But [the label] didn't want Lu because they thought it sounded too masculine. So we stayed with Lee Ann. The one who actually decided that I should keep my name was my manager, Erv Woolsey. He said that when he started managing George Strait there had been some pressure for George to take a different name-on account of George Jones. Erv said, 'George Strait kept his name, and it worked. You should too."'
For her first album, Decca has paired Womack with producer Mark Wright, the man who helped guide Clint Black and Mark Chesnutt to platinum-level success. He encouraged the singer to participate fully in gathering material for the project. "I did a lot of searching for songs for this album," she explains. "Since I'm a writer myself, I had a lot of friends in the songwriting community I could turn to. In fact, I brought most of the songs in. But Mark Wright and Frank Liddell, Decca's Director of A&R, did extensive searching as well." The songs the three selected for Lee Ann Womack are among the best Nashville has to offer-from such classical hurting tunes as "Never Again, Again," "The Fool" and "Am I The Only Thing That You've Done Wrong," to the easygoing and familiar "A Man With 18 Wheels" and "Buckaroo."
You can tell a lot about a new artist by the quality of established artists she attracts. In Womack's case, it's stars like Mark Chesnutt, who duets with her on "Make Memories With Me"; Ricky Skaggs and Sharon White, who provide vocal harmonies on "Never Again, Again" (her first single) and "Get Up In Jesus' Name"; and famed producer Tony Brown, who plays piano on "You've Got To Talk To Me."
Once you hear Lee Ann Womack, you'll never be confused again about who she is or what she is. She's pure country.